Adele: 'I Knew My Voice Was In Trouble, And Obviously I Cried A Lot'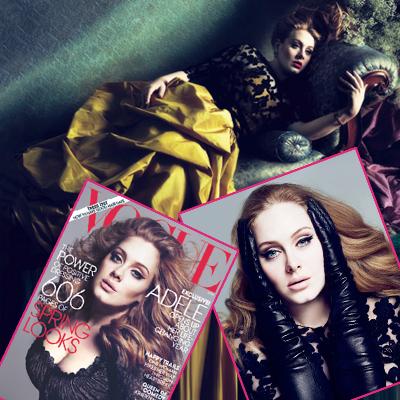 Following Adele's record-setting windfall at Sunday's Grammys, we've got the highlights of her new interview with Vogue right here for you at RadarOnline.com, in which the critical darling openly talks about the vocal woes she had coinciding with her career breakout last year, and the much-needed respite she got as a result.
The 23-year-old British soul singer, whose full name is Adele Laurie Blue Adkins, made her triumphant return to the stage Sunday after undergoing vocal cord surgery last November, marking the end of a short, but scary, road back to the stage.
Article continues below advertisement
In the chat, which the singer gave in December in London, Adele said, "I've been singing properly every day since I was about fifteen or sixteen and I have never had any problems with my voice, ever."
She said of an incident in January: "I've had a sore throat here and there, had a cold and sung through it, but that day it just went while I was onstage in Paris during a radio show. It was literally like someone had pulled a curtain over it."
Adele said more problems cropped up in May, and again in October.
"I knew my voice was in trouble and obviously I cried a lot," she remembered. "But crying is really bad for your vocal cords, too!"
Adele said she was reassured when trusted music people pointed her toward Boston doctor Steven Zeitels, M.D. who subsequently discovered a polyp on one of the singer's vocal cords that needed to be operated on.
Article continues below advertisement
"When I met him, I loved Zeitels ... he made me feel safe," she said, noting some of the doctor's other big name patients -- including John Mayer, Roger Daltrey, Steven Tyler and Elton John -- endorsed him to her.
Adele said she was upset by rumors "that she had throat cancer," adding most people overestimated her issue.
"It's worse than it is. I stopped for a bunch of builders today at the office who wanted a photograph, and they were like, 'How's your throat?' Everyone is so worried."
Adele said the break she took recovering from surgery, which took place November 3, gave her a chance to look back and take inventory of how far she'd come in her career.
"It was so fast-paced, I could hardly ever even remember the bulk of my day. I think I just needed to be silenced. And when you are silent, everyone else around you is silent," she said. "So the noise in my life just stopped. It was like I was floating in the sea for three weeks. It was brilliant."
Article continues below advertisement
Adele continued, "I had so much time to kind of go over things and get over things, which is amazing. I think if I hadn't had my voice trouble, I would never have broached those subjects with myself. Now I just feel really at peace. And really proud of myself. I've never fully appreciated the things that I've achieved until now. In fact, my entire life has changed in the last ten weeks.
"I've never been so happy, and I love it."
As we previously reported, the singer swept the six categories she was nominated in at Sunday's 54th annual Grammy Awards, including album of the year, record of the year, and song of the year for her second album, 21. The six wins tied her with Beyoncé for the most Grammy Awards won by a female act in a single year.
For more on the chat, check out the March 2012 issue of Vogue magazine, on newsstands this week.