Karl Lagerfeld Apologizes To Adele Over Fat Comments, Sort Of!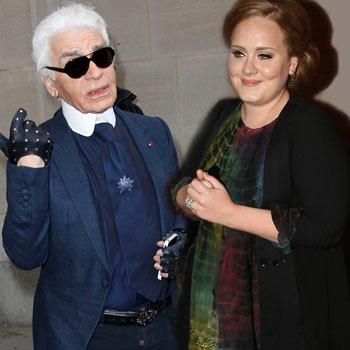 By Leah Ornstein - Radar Style & Beauty Editor
After getting himself in hot water for slamming Brit singer Adele's weight, outspoken fashion designer Karl Lagerfeld has apologized to the singer – sort of!
"I'd like to say to Adele that I am your biggest admirer," he told Metro on Wednesday.
"Sometimes when you take a sentence out of the article it changes the meaning of the thought. What I said was in relation to Lana Del Rey and the sentence has since been taken out of context from how it was originally published."
Article continues below advertisement
Lagerfeld, who was playing guest editor for Metro on Tuesday, was asked about singer Del Rey, when he responded: "The thing at the moment is Adele. She is a little too fat, but she has a beautiful face and a divine voice."
"I actually prefer Adele, she is my favorite singer and I am a great admirer of her," he continued in his "apology" on Wednesday.
"I lost over 30 kilos over 10 years ago and have kept it off. I know how it feels when the press is mean to you in regards to your appearance. Adele is a beautiful girl. She is the best. And I can't wait for her next CD."