Outspoken Fashion Designer Karl Lagerfeld Slams Adele: 'She's A Little Too Fat'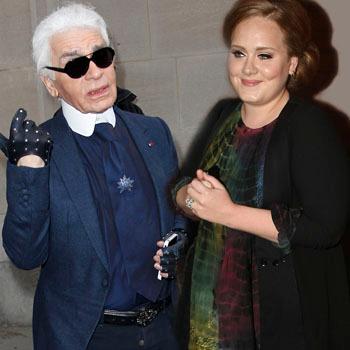 By Leah Ornstein - Radar Style & Beauty Editor
Famed fashion designer Karl Lagerfeld is a fan of Adele – but not of her body!
The Chanel designer, played Metro's guest editor in Paris on Monday and shared his opinion on all the hot topics of the day -- revealing, amongst other things, that he enjoys the British singer's voice but has a problem with her physique.
"The thing at the moment is Adele," the fashion designer explained when asked about current It Girl Lana del Rey, saying that he preferred Adele and Florence and the Machine singer, Florence Welch.
Article continues below advertisement
"She is a little too fat, but she has a beautiful face and a divine voice."
He also gave del Ray, who denies that she's ever had plastic surgery, a few back handed compliments as well.
"Lana del Ray is not bad at all. She looks very much like a modern-time singer," he said. "In her photos she is beautiful. Is she a construct with all her implants? She's not alone with implants."
Do you think Karl Lagerfeld was out of line with his comments? Sound off below!