Tim Tebow Throws A Tune As He Swaps His Football For Microphone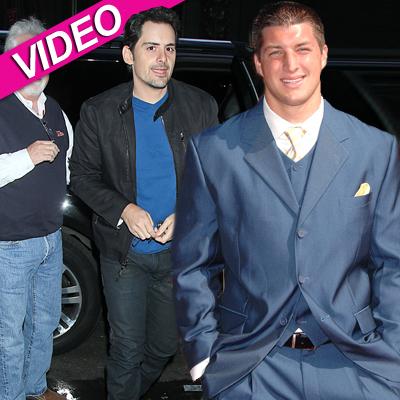 By Debbie Emery - RadarOnline.com Reporter
After getting knocked out of the NFL playoffs by Tom Brady and the New England Patriots a week earlier, Tim Tebow had the weekend off work and made the most of his free time!
Instead of wallowing over his shattered Super Bowl dreams, the Denver Broncos quarterback put on his dancing shoes and hit the stage with country star Brad Paisley, and RadarOnline.com has video of his somewhat shaky performance.
Article continues below advertisement
VIP guest Tebow wasn't content with just watching the concert from the crowd, the Mile High City's most famous resident was invited on stage to sing with Paisley in front of the sell-out crowd at the Pepsi Center in Denver.
As one of the biggest names in football, Tim, 24, is used to putting on a performance in front of a huge audience, but even he got nervous singing in public when he joined Brad for a duet of I'm Still a Guy.
"We've seen you throw an 80-yard touchdown pass, but can you sing?" the CMA Entertainer of the Year asked Tebow after he made his way to the stage.
Dressed in a black wool hat, sweater and jacket, the hunky Christian sports star smiled in childlike delight as he crooned alongside the country legend as the crowd cheered in delight.
Watch the video on RadarOnline.com
After the surprise performance, Paisley tweeted cheekily: "Thanks for singing with me @TimTebow. But don't quit your day job pal, Still a Guy has never been so exciting. Or quite so beautifully off key."
Article continues below advertisement
Tim was a lot more polite about his musical debut when he posted a photo on his Facebook page from backstage after the show.
"Had a great time hanging out with my brothers and friends at the Brad Paisley concert in Denver this past weekend... awesome show!" wrote the Heisman Trophy winner.
MORE ON:
New England Patriots