Exclusive
'Diva' Stephanie Pratt: Wasted And Rejected At Sundance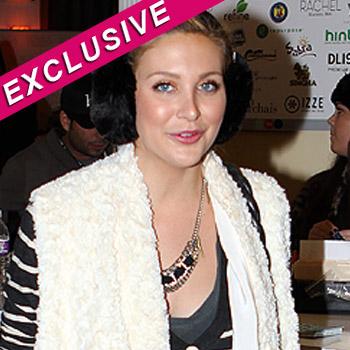 By Cara Sprunk - Star Reporter
Stephanie Pratt has struggled with substance abuse in the past, getting booked for "promoting a dangerous drug" in the third degree and "promoting a harmful drug" in the third and fourth degree in 2006, as well as getting a DUI in 2009. After the DUI, Stephanie Pratt reportedly calmed down her partying ways and went to rehab for 30 days, but it appears the former reality star hasn't curbed all her partying.
Article continues below advertisement
Stephanie, 25, was in Park City, UT over the weekend for Sundance and at a dinner on Friday, guests say she was "wasted."
"Stephanie did plenty of toasts and even had a drink named after her. She was telling all the guests 'just order the Stephanie, it's delicious,'" a source tells Star magazine.
After "5 or 6" of her Stephanie drinks — a straight vodka drink with fresh fruit crushed in it — the Hills star appeared "off-balance," the source explains.
After dinner Stephanie headed over to Tao, where she tried to cut the line to get into the hotspot.
"She was being a diva and ended up getting rejected outside of Tao," the source explains. "She looked at the doorman and sneered, 'you're not letting me in?!' and he stared at her and said 'yes, even you step back.'"
Stephanie ended up having a pal buy a table at the club so she could enter quickly, the source explains. "Inside the club she was taking shots all night," the source says.
Article continues below advertisement
There must be a new guy in Spencer Pratt's sibling's life as she was talking closely to a mystery man at the end of the night, according to the source.
Also at closing time, Stephanie had another diva-inspired altercation with the bouncer.
"Tao's bouncer was asking everyone to clear out so the A-list talent could get in private cars," the source explained. "Stephanie didn't have any car picking her up but she insisted upon standing with all the celebrities. She didn't leave until the last person was picked up, and then she just got in a cab."
Pratt's rep tells RadarOnline.com: "Stephanie and two girlfriends enjoyed a lovely dinner by The Vinatta Project at the KeepAmerica.com dinner and then went to Hyde with guests from the dinner. Later in the evening they went to Tao to meet up with her friend Dingo at his table. She did not have trouble at the door nor do you have to buy tables during Sundance."
RELATED STORIES:
'Wasted' Kelly Osbourne Buys Pot Cookie While Drinking In Bar