Exclusive
Taylor Armstrong's Friends Want Her To Go To Rehab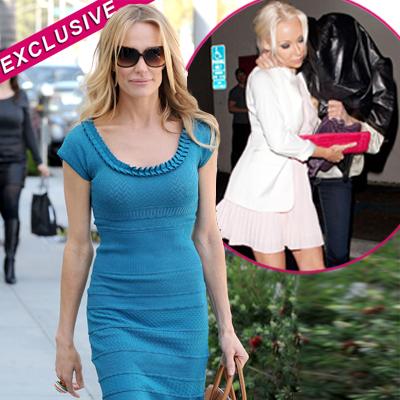 By Jen Heger - RadarOnline.com Legal Editor
Friends and people associated with Taylor Armstrong are urging The Real Housewives of Beverly Hills star to go into rehab after a series of seemingly drunken episodes, RadarOnline.com is exclusively reporting.
In one instance, viewers of the Bravo hit television show watched Armstrong get so drunk that she climbed into her own suitcase. In another case -- not shown on the show -- Taylor was photographed stumbling out of a restaurant last week.
Article continues below advertisement
The reality TV star was spotted sobbing as she left Craig's restaurant in West Hollywood last Thursday night. An eyewitness told RadarOnline.com: "Judging by the way she was staggering she was very drunk. She couldn't stand up without help and was being held up by her friend as she walked to the car. She looked absolutely wasted."
"Taylor's closest friend and advisers have told her that she needs to go to rehab," a source tells RadarOnline.com exclusively. "Taylor admits that alcohol has become her crutch in dealing with Russell's suicide, and coping with the drama of being on The Real Housewives of Beverly Hills.
"While Taylor doesn't drink every day, or during the day, and she certainly doesn't drink and drive, whenever she does drink, she gets drunk. Taylor primarily drinks in the evenings, at home alone, and when out socializing with friends. She isn't drunk in front of her daughter Kennedy.
"Taylor recognizes that alcohol is playing a much larger role in her life than she would like, but she is refusing to go to rehab, primarily because of Kennedy. Kennedy has already endured the loss of her father, and Taylor just doesn't want to spend any time away from her, period."
Article continues below advertisement
Meanwhile, fellow Housewife, Kim Richards, Paris Hilton's aunt, was just released from rehab, and was spotted last week with her sister, Kathy Hilton, having dinner at Mr. Chow in Beverly Hills, looking very healthy.
As RadarOnline.com exclusively revealed, Bravo executives had issued an ultimatum to Kim, either go to rehab, or get axed from the show.
"Kim doesn't have any other significant source of income and she needs to keep her job on the show," an insider told RadarOnline.com.