Exclusive
90210 – 90220: Taylor Armstrong Talks Real Housewives Of Compton!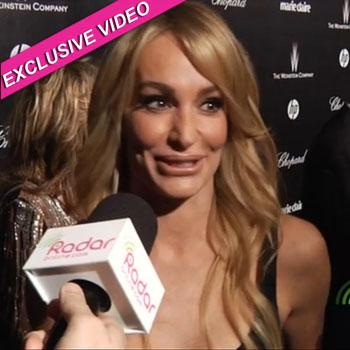 Real Housewives of Beverly Hills star Taylor Armstrong was far from silent on the red carpet for the Weinstein Company post Golden Globes party.
The reality star dished about her lip implant and her unwillingness to have it removed, her idol Madonna and her "hottest arms on the planet" — and, when also asked if she would move house to star in a more inner city than affluent version of her hit reality franchise, a "Real Housewives of Compton" series, she informed RadarOnline.com reporter Matt Grant that she "might have to!"
Article continues below advertisement
"I'm willing to move house," she said. "I may have to actually -- so this would work out perfectly for me."
The silent movie The Artist continues to make a lot of noise in Hollywood - winning three Golden Globes Sunday night. The Artist picked up more awards at the Globes than any other title.
A very happy looking director, Michel Hazanavicius, spoke to RadarOnline.com and let us know that he was very proud of his wife, actress Bérénice Bejo, who stars in the movie. Bejo herself was nominated for Best Supporting Actress.
And, a few people may be surprised to see actor Ken Davitian, better known for playing Borat's naked producer friend in the 2006 comedy film Borat, turn up for a cameo role in The Artist. Davitian said he was impressed by the ambitious project from the first moment he heard about it. He also let us know that he kept all his clothes on for this latest role.
You can watch the video below on RadarOnline.com.
Article continues below advertisement
Ricky Gervais Skewers Jodie Foster, Kim K, Madonna & Justin Bieber At Golden Globes