Simon Cowell On A 'Break' From Fiancee Mezhgan Hussainy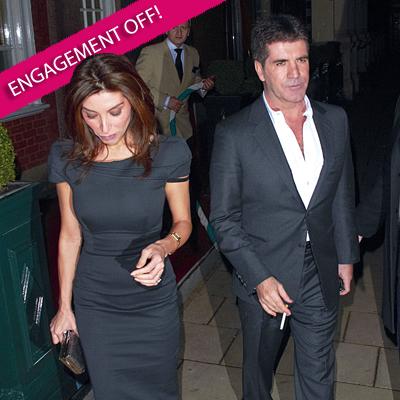 First, Ross and Rachel took a break -- now, it's Simon Cowell's turn.
The X Factor judge reveals that he and his fiancee, Mezhgan Hussainy, are stepping back from both their relationship and their plans to tie the knot.
In an interview Sunday with the British newspaper the Daily Mirror, Cowell ,52, says the estranged couple hasn't seen each other since just before Christmas, when they only met briefly.
Article continues below advertisement
"It's quite a complicated relationship. We have had a break from each other, and we are still incredibly close.
"I'm vulnerable. It's not on, it's not off, it's somewhere in the middle. I don't know if I will ever get married, but I am happy."
The outspoken Cowell also says he regrets gushing about Mezhgan to CNN's Piers Morgan and calling her "The One."
"I have been pretty good about not talking about my private stuff, but I got caught up in the moment," he told the Daily Mirror.
Cowell and Hussainy met on the set of American Idol in 2003, where she was working as a makeup artist. The couple got engaged in February 2010.
Mezhgan has moved out of his mansion in Los Angeles and is staying at another home he owns nearby. His ex, TV personality Terri Seymour, stayed there after they split in 2008.
Simon admits he does help his exes out ­financially. "I don't pay them off, but if you have been with someone long enough, there is a ­responsibility. You can't say one minute you can live this type of life and then the light goes off."