American Idol: Season 11 Kicks Off In Savannah!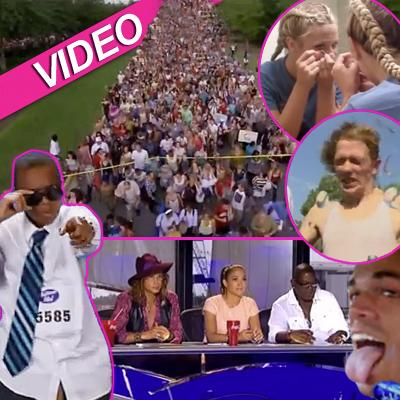 And they're off!
American Idol's eleventh season kicked off with a two-hour premiere Wednesday, as the panel of Steven Tyler, Jennifer Lopez and Randy Jackson scoured Savannah, Georgia for the next Kelly Clarkson, Jennifer Hudson or Carrie Underwood.
"I'm so happy to be back with Randy and Steven -- they're like my family now," said J.Lo, who ended last season with a spicy number with now estranged husband Marc Anthony that turned out to be the couple's public swan song.
Article continues below advertisement
Said Randy Jackson: "A new beginning, season one-one, a new beginning!"
One of the standout performers during Wednesday's try-outs was 17-year-old David Leathers, Jr., singing 21st Century's "Remember the Rain" -- and getting Michael Jackson comparisons from Randy within a few minutes. Needless to say, he's headed to Hollywood.
On the flipside, Jessica Whitely, a 19-year-old Ohio beauty who sang Charice's "In This Song," brought out Randy's inner-Simon Cowell.
"Awful," Randy said curtly. "You just shouted. I don't even know if I'd call that singing.
"This is not your groove right here ... do people tell you you can sing?
The resilient girl vowed she'd be giving it another shot at the show's Texas auditions, to which J.Lo cracked someone ought to save her the drive.
Watch the video on RadarOnline.com
In a new twist this season, the hopefuls will chronicle their time in the competition on camera phones. Auditions for the show's eleventh season have spanned the country, touching down in cities including St. Louis, Missouri; San Diego, California; Pittsburgh, Pennsylvania; and Portland, Oregon, among others.
Article continues below advertisement
American Idol returns Thursday at 8/7c on Fox; a special edition will air Sunday following the NFL playoff game between the New York Giants and San Francisco 49ers on Fox.
Randy Jackson With Ryan Seacrest