Vanessa Minnillo Does Not Have The X Factor, She Lost Out On Hosting Gig To Steve Jones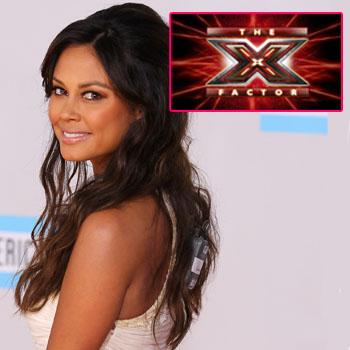 Vanessa Minnillo has admitted that she doesn't have The X Factor after failing her audition for the hosting gig.
The 30-year-old television personality says she tried out to be part of Simon Cowell's latest talent show but lost out to Steve Jones.
"They went with a British guy," Vanessa, who now goes by her married name of Lachey, lamented to the New York Post. "You can't be more polar opposite, so I am okay with that.
Article continues below advertisement
"Now if the host was a brunette girl in her early 30s, I would be like 'wait a minute!'"
There have been unconfirmed rumors swirling that Steve may only be a one-season host and execs are looking for a replacement, but Vanessa says that she's "happy" where she is at now and wouldn't audition again.
She is the new co-host of ABC's Wipeout where she watches from the sidelines as contestants make their way around the "world's largest obstacle course" with hilarious consequences.
Ironically, Vanessa was offered the Wipeout presenting job back in 2008 when it first aired, but turned it down to concentrate on acting but now she's delighted that the opportunity came around again.
"Had I not passed on that I would never have had the four or five years of acting and classes and eventually getting married," she maintains. Vanessa tied the knot with The Sing Off host Nick Lachey back in July.
Article continues below advertisement
But one thing she is hoping to fit into her busy schedule is starting a family with her husband.
"He and I have always talked about it and are excited," she gushed. "People get married and try to have kids. I am excited for that when it comes and, God willing, it will be around my Wipeout schedule."
"I don't want to be nine-months pregnant standing around the big red balls and laughing at people who are getting slammed in the stomach!"