Real Life 'Weekend At Bernie's' Duo Plead Guilty To Abuse Of A Corpse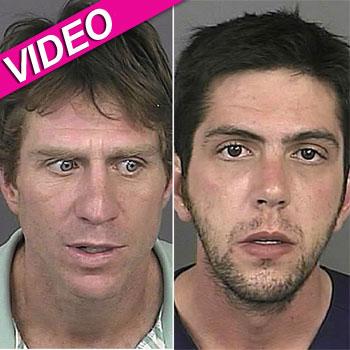 Looks like the Weekend at Bernie's criminals didn't get their Hollywood ending!
The two Colorado men, Robert Young and Mark Rubinson, who were accused of dragging a dead friend out for a night on the town and using his credit card to pay their bar tabs, pleaded guilty to abuse of a corpse on Thursday – and RadarOnline.com has the details.
In a crime that closely resembled the 1999 Hollywood blockbuster film in which two friends spend a weekend with their dead boss, Young, 43, claimed he found his pal Jeffrey Jarrett, a 43-year-old realtor, unresponsive in his Denver home on August 27. He claims that he did not know that he was deceased, so he placed him in an SUV and went to go pick up Rubinson, 25, and the duo hit the town with their friend in the car and used his credit card at multiple bars and restaurants.
Article continues below advertisement
After their wild night out, they claimed that they finally realized that their friend was dead, so they dropped him off at home and left his body in the bedroom.
But the party didn't stop then! They continued to charge up Jarrett's credit card, with Young claiming that Jarrett owed him money.
Both men pleaded guilty to the abuse of a corpse and Young also pleaded guilty to identity theft. Their pleas allowed each of them to have the more serious felony charges against them dropped.