Singer Etta James Dies At Age 73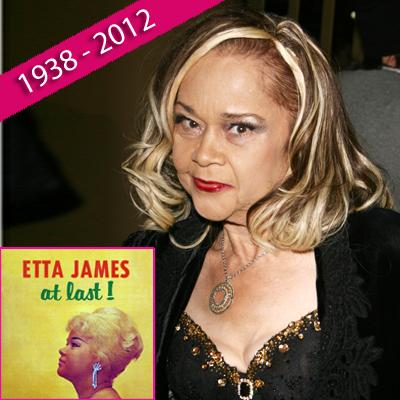 By Debbie Emery - Radar Reporter
Singer Etta James has died at the age of 73 after a long battle with leukemia.
James passed away on Thursday at a hospital in Riverside, California, with her husband, Artis Mills, and her sons, Donto and Sametto, by her side, reported CNN.com.
Along with being diagnosed with leukemia in 2010, she also suffered from dementia and hepatitis C.
"This is a tremendous loss for the family, her friends and fans around the world," said her longtime friend and manager, Lupe De Leon.
Article continues below advertisement
"She was a true original who could sing it all -- her music defied category."
Born Jamesetta Hawkins to an unwed 14-year-old mother in 1938 in Los Angeles, she overcame her humble beginnings to become a legendary voice in the world of soul, R&B and jazz.
She began singing in church and by the time she was a teenager, 'Miss Peaches' reached number one in the R&B charts with The Wallflower (Roll With Me, Henry).
In 1960, she joined Chess Records and enjoyed phenomenal success with R&B and pop hits such as Something's Got a Hold On Me, many of which had rich string arrangements.
James' life was as fascinating as her music, she battled a heroin addiction, opened on tour for the Rolling Stones, performed at the 1984 Olympic games opening ceremony, won six Grammy awards, and was voted into the Rock and Roll Hall of Fame.
Article continues below advertisement
The At Last singer was portrayed by a modern-day legend, Beyoncé, in the 2008 film Cadillac Records about her 18-year tenure at Chess.
Unfortunately, James was not impressed with the casting and expressed her disgust at one of President Barack Obama's 2009 inaugural balls.
"I can't stand Beyoncé. She had no business up there singing my song that I've been singing forever," she said, but later claimed she was joking.
After overcoming her drug problem in the 70s and 80s, Etta went on to battle her weight and fluctuated to over 400 pounds in the mid 1990s.
Despite her health problems, the songstress continued touring and even danced in her chair when she was forced to sit down on stage.
James died not knowing for sure who her real father was, but she reportedly suspected it was pool player Minnesota Fats.
RELATED STORIES: