First Photos Of Lauren Scruggs Smiling Bravely As She Goes For Rehab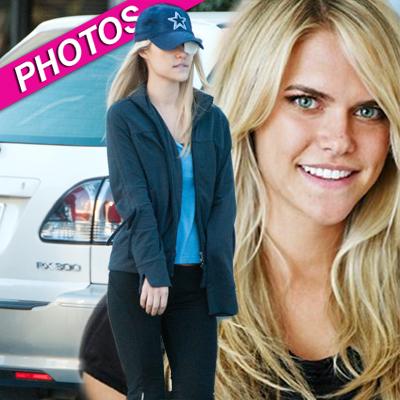 By Debbie Emery - RadarOnline.com Reporter
More than six weeks after she suffered horrific injuries from being hit by a small plane propeller, Lauren Sruggs is miraculously well on the road to recovery, and RadarOnline.com has the first photos since her accident.
The 23-year-old model and fashion blogger was dropped off by her father at the Baylor Institute for Rehabilitation in Dallas on Tuesday and a picture of the pair proves that even the terrible accident couldn't damage her beauty or her spirit, as shown by photos on ABC's Good Morning America.
Article continues below advertisement
As RadarOnline.com previously reported, the first sighting of Lauren comes just days after it was revealed that pilot, Curt Richmond, told investigators how he tried to warn Scruggs about the deadly propeller. He thought she was safe until he heard someone cry out, "Stop! Stop!"
Richmond, of Frisco, Texas, had flown Scruggs above Dallas to view Christmas lights in his an Aviat A1-B before the incident happened at the Aero County Airport in McKinney.
Having lost both her left eye and left hand in the December 3 accident, Scruggs carefully concealed her injuries with an eye patch and a long-sleeved sweatshirt that fell far below her wrist.
Dressed in a Dallas Cowboys cap and leggings, she seemed happy and relaxed when her parents, Jeff and Cheryl, and twin sister, Brittany, arrived to pick her up after the appointment to help her learn to function properly again.
Article continues below advertisement
She also suffered as a fractured skull, broken left collarbone and brain injuries.
Despite her brave face during her hospital outing, Lauren's family revealed the depth of her ongoing struggle on the family CaringBridge.org blog on Wednesday.
"It's hard to watch the reality face to face, even though we KNOW that God will never leave us or forsake us," her deeply-religiously mother wrote.
"We know all of the 'right answers.' But it doesn't change what happened, and it is just plain hard to watch Lo come to grips with the fact that she has lost her hand and lost her eye.