Real Life Weekend At Bernie's as Colorado Men Take Dead Friend For Night Out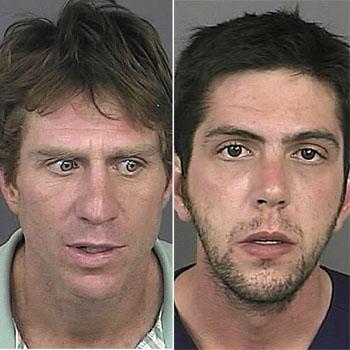 It's a real life re-enactment of the cult classic movie Weekend At Bernie's!
Two Colorado men, Robert Young and Mark Rubinson, have been accused of dragging a dead friend out for a night on the town -- and charged with abusing a corpse, identity theft and criminal impersonation as a result.
Young, 43, claims he found pal Jeffrey Jarrett, a 43-year-old realtor, deceased in his Denver, Colorado house, then placed his corpse into an SUV, police said.
Article continues below advertisement
At that point, he and Rubinson, 25, painted the town red, using Jarrett's credit card to pay their bar tabs, going to multiple bars and restaurants with their deceased pal still in the car, police said.
The fun loving friends rounded their night off by stopping by a gentleman's club, authorities said, where they spent $400 more of their dead chum's money.
Finally, after their night of fun, the fellas notified authorities to alert them of Jarrett's death.