The Tax Man Is Calling For Singer Paulina Rubio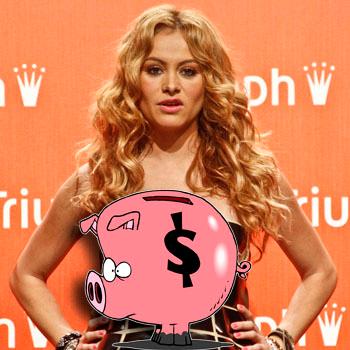 By Debbie Emery - RadarOnline.com Reporter
Tax day is going to be a rough time for singer Paulina Rubio, who allegedly owes the IRS hundreds of thousands of dollars.
The feisty Latina needs to have a financial face-off with both English- and Spanish-speaking tax men as she has a bill for $530,000 due in Mexico and a further $210,000 owed to the American IRS, reported the DetroitNews.com.
Her money worries are the latest in a string of personal problems that the 40-year-old Mexican pop star has endured recently. She is reportedly separated from her husband and dealing with the fallout from a June, 2011 arrest in Miami, Florida, when she had a dispute with police after a minor traffic accident.
Article continues below advertisement
According to DetroitNews.com, the IRS filed a $132,642 tax lien against the Gran City Pop singer in the Dade County (Fla.) Circuit Court for 2010 taxes, along with a $77,677 tax lien in the Broward County Circuit Court.
As RadarOnline.com previously reported, Rubio isn't the only star due to write the IRS a big check.
Run-D.M.C. founder and words-of-wisdom tweeter Rev Run (real name Joseph Simmons) has two daughters that owe the IRS and state of California more than $450,000!
Angela Simmons, 24, and Vanessa Simmons, 28, both starred with their famous father on the hit MTV reality series Run's House, but according to documents filed in both California and New York, they've run into some trouble with their taxes.
And, Paula Patton and her husband Robin Thicke owe a stunning $492,583 after being slammed by the IRS with a tax lien filed against their Los Angeles mansion on December 28, reported The Detroit News.