Exclusive
Miley Cyrus Is 'Selling Sleaze' With X-Rated Antics, Says Right Wing Group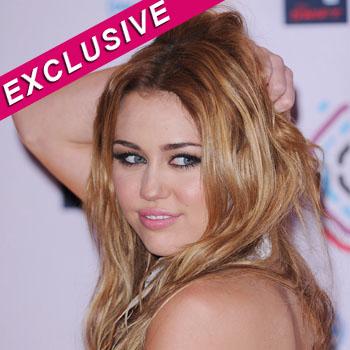 By Debbie Emery - Radar Reporter
Miley Cyrus has gone from a Disney darling to a naughty sex kitten, and new photos of her provocatively licking an X-rated cake has taken her flirty fun too far, according to some.
The scandalous snap shots were taken when the 19-year-old Hannah Montana star was celebrating boyfriend Liam Hemsworth's 22nd birthday at Club Icon in Downtown Los Angeles on Saturday night, and the images have caused outrage among right wing groups, RadarOnline.com can exclusively reveal.
Article continues below advertisement
"Miley Cyrus, who made her career as the family friendly Hannah Montana, has grown into the latest example of how Hollywood warps young actresses into selling sleaze," Dan Gainor of the Culture and Media Institute told RadarOnline.com in an exclusive interview.
Dressed in a skimpy black dress with gaping cutouts showing off her array of tattoos, bright red lipstick, and a huge cocktail in her hand, the underage singer wraps her tongue around a huge penis-shaped chocolate cake, complete with pubic hair icing!
In later photos, Miley gets into full party mode when she hits the stage and dances sexily with one of her girlfriends.
"She is following a parade of former Disney stars -- such as Britney Spears, Christina Aguilera, and Lindsay Lohan -- that the entertainment industry has manipulated into role models promoting sex to their young fans," revealed Gainor.
"The actresses know that the more sexualized they act, the more Hollywood will reward them. And no one, not the industry and not the pop-tarts themselves, cares that they are pushing sex to an underage audience."
Article continues below advertisement
It's not the first time the Party In The USA singer has caused a scandal with a birthday cake.
As RadarOnline.com previously reported, Miley's Bob Marley inspired confectionery at her 19th birthday party last November led her to confessing her liking for weed.
In a video of the party obtained by The Daily, Miley very clearly says, "You know you're a stoner when friends make you a Bob Marley cake — you know you smoke way too much f***in' weed."