Exclusive
Heather Locklear 'Will Be OK,' Says Richie Sambora's Mom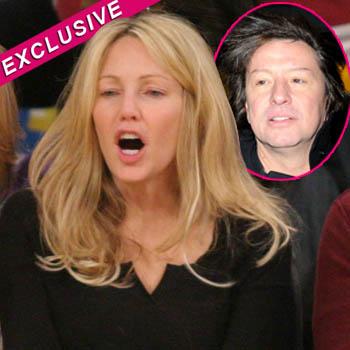 As Heather Locklear recovers from an accidental near-overdose, her former mother-in-law, Joan Sambora, is thinking of her.
"I think she will be ok she just has to get it together," Joan told Star magazine in an exclusive interview.
While she has "not yet" reached out to Heather, she says she has nothing but "kind words" for her.
And it seems Heather is still close with Joan as she explains that: "We always see her. We always hang out and her family is great with us too. We're all together all the time."
Article continues below advertisement
"A huge argument erupted as they insulted each other's families," a source exclusively told Star. "As Heather went to her car, Jack lunged at her, trying to grab or push her. Her reaction was to swing.
"She caught Jack with a right hook across his face, knocking him to the ground."
Wagner, 52, then put his hands around her and Heather slammed into the car, while he ran into the house, revealed the insider.
Article continues below advertisement
Locklear quickly fled, but not before grabbing Jack's dog and putting it in the car.
According to Star's source, the drama didn't end there. The police arrived and after speaking to them both they realized the gash across Wagner's face was caused in self defense. "Heather didn't want to press charges, so she left."
The former co-stars called off their engagement in November after being together since 2007, and it's been downhill for Heather ever since.