Eccentric Heiress & Style Icon Daphne Guinness On Childhood: 'I Was Quite A Tomboy'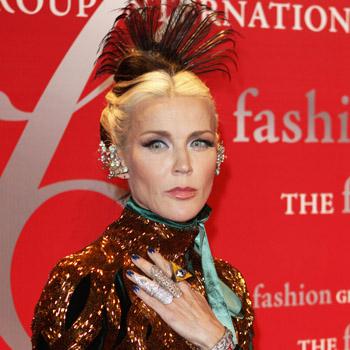 It's hard to believe that Daphne Guinness was ever anything less than glamorous!
The eccentric heiress to the Guinness fortune and style icon opens up about her life before she discovered couture and shows off her coveted closet in a new interview with DEPESHA magazine's Editor in Chief and dot429 Fashion Contributor Stephan Rabimov – and RadarOnline.com has the highlights.
"I was quite a tomboy; I was always falling out of trees. Perhaps this is how my fascination with armor began," Guinness, who is famous for adorning her body with armor, tells Rabimov.
Article continues below advertisement
"I had to be tough in the environment I grew up, with so many brothers and sisters."
But it's quite clear that the ultra-glam Daphne has outlived her "tomboy" phase.
"I love fetish, and the fantastic silhouettes," she replied when asked if her relationship with clothes could be called a fetish. "I can imagine it could be seen like that. A fetish object is something that compels you, and people have fetishes for all sorts of things. It is a very human thing. It's sort of an exploration of the human body."