Heiress Tells All! Inside The Wonderful World Of Daphne Guinness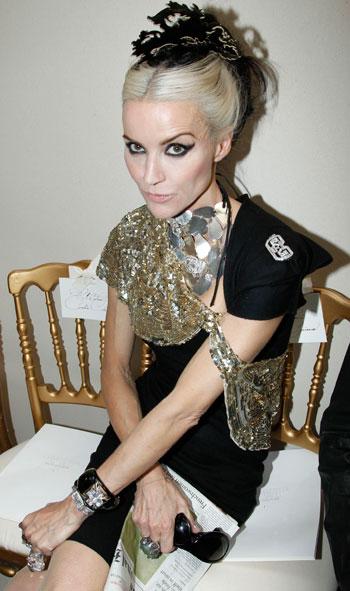 By Leah Ornstein - RadarOnline.com Style & Beauty Editor
"I'll eat when I'm dead," was the most shocking quip to come out of Daphne Guinness' interview with the New Yorker - but it certainly wasn't the only memorable moment.
The skinny socialite and style icon, who has palled around with everyone from Alexander McQueen and Isabella Blow to Hole frontwoman Courtney Love, opened up to the magazine about her aristocratic background, which has enthralled the world for several decades - dishing on everything from her grandmother's friendship with Adolph Hitler and her philandering father to her career aspirations as a child - and RadarOnline.com has all the highlights of the extensive and intriguing interview.
Article continues below advertisement
As aristocratic as they come, the 43-year-old, who the journalist likens to "a slightly deranged fairy invented by C.S. Lewis" is the daughter of Jonathan Guinness, heir to the famous beer fortune, and his second wife.
Jonathan's mother and Daphne's grandmother, Diana Mitford, was a famous Fascist and Nazi supporter, whose second husband, Sir Oswald Moseley, founded the British Union of Fascists.
Diana, who became "very friendly" with Hitler in the 1930's, defended him to the end.
Guinness shares a memorable conversation with her grandmother about her questionable friendship with Hitler: "I said, 'Granny, it just can't be right,' and she just said, 'He didn't photograph well.' She said he was very, very funny."
While most public figures deny extramarital affairs until the end, Daphne has openly admitted to being involved with a married man. She told Harper's Bazaar in 2011 about French intellectual Bernard-Henri Levy: "He is quite obviously the love of my life. My greatest sorrow has been the unresolved question of the state of our relationship."
Article continues below advertisement
Apparently, she learned about these liaisons from her pop - Jonathan Guinness fathered three children with a mistress, while married to Daphne's mother!
And though her marriage to Greek shipping heir Spyros Niarchos bore her three children, she admits it also halted career plans she had for herself - she wanted to sing as an operatic soprano!
"Spyros didn't like classical music, poor him; people either like it or they don't, and you can't criticize someone for that. I would go off and do it somewhere where he couldn't hear me. And he used to think it depressed me, which it didn't."
Who Is Daphne Guinness? Inside Her Stylish & Scandalous Life
Other interesting details from the interview:
She wears white ballet slippers on the StairMaster at the gym. And, she wears diamonds all the time - even to the beach!
After her best friend of several years, Isabella Blow, committed suicide, Guinness purchased the entire collection of Blow's amazing clothes when auctioned off at Christie's, without any intention of wearing them. "It makes me cry," she explained. "It smells of her smell."
Article continues below advertisement