Who Is Daphne Guinness? Inside Her Stylish & Scandalous Life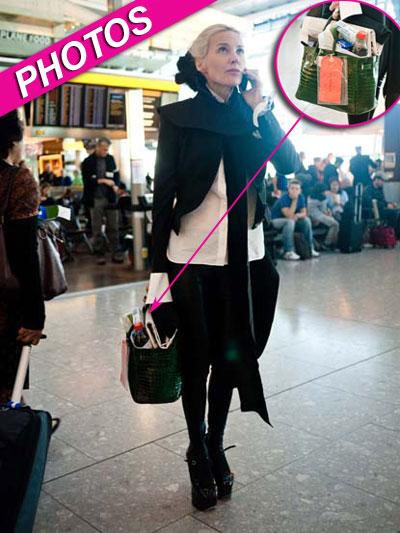 RadarOnline.com Style & Beauty Editor
British style icon and heiress Daphne Guinness is the talk of the town, after her controversial comment to New York Magazine this week "I'll eat when I'm dead" – but this isn't the first time the platinum blonde has been surrounded by scandal.
RadarOnline.com is bringing you 10 interesting and quite shocking details about the fierce fashionista's life – including a long term relationship with a married man, how her two best and very famous friends committed suicide within years of each other and how she almost became Paris Hilton's aunt!
Article continues below advertisement
1. Her official name is The Honourable Daphne Diana Joan Suzannah Guinness.
2. She is an heiress to the Guinness fortune!
3. Born in London, she moved to New York City in the 1980's with her sister Catherine, who ran with the wild Andy Warhol crowd.
4. In 1987, when she was only 19 years old, she married Greek shipping heir Spyros Niarchos, the uncle of Paris Hilton's ex fiancé Stavros Jr. The duo had three children before divorcing in 1999.
5. She has openly admitted that the longtime rumors of her romance with a married French intellectual Bernard-Henri Levy are true, telling Harper's Bazaar Magazine in 2011: "He is quite obviously the love of my life. My greatest sorrow has been the unresolved question of the state of our relationship."
6. She is no stranger to controversial statements! In March 2011 the Sunday Times reported that Guinness referred to Victoria Beckham as an "ugly pig" and "miserable and awful." The heiress took to her Twitter to deny the allegations, maintaining "I am so sad stitched up by the Sunday times. I though c. long was a friend. I would never call anyone an ugly cow, not my words."
Article continues below advertisement
7. Two of her best friends committed suicide within years of each other. English magazine editor and style icon Isabella Blow, in 2007, and fashion designer Alexander McQueen in 2010.
"A lot of my friends died, and we were a gang," she recently told The Daily Beast. "I've become more visible since they disappeared. I've been more exposed. And it's somewhat confusing, because I don't think I've changed."
8. Despite her wacky style, she was added to the International Best Dressed List Hall of Fame in 1994.
9. She appeared in a music video for rapper Kid Cudi in December 2009.
10. She is being honored with an exhibit at The Museum at the Fashion Institute of Technology, where all her fabulous fashions are being showcased.
RELATED STORIES:
Super Skinny Heiress & Fashion Icon Daphne Guinness: 'I'll Eat When I'm Dead'