Cindy Crawford's New Face: 'She's Had Injections' Says Dermatologist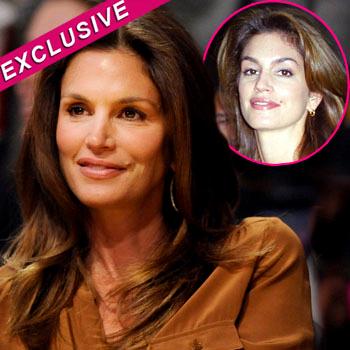 By Amber Goodhand - RadarOnline.com Reporter
Cindy Crawford attended the Los Angeles Lakers game on Tuesday night looking a little different in the face, and a board certified dermatologist exclusively tells RadarOnline.com it's because the former supermodel appears to have had injections.
"Her cheeks are a lot fuller. She definitely had something injected in her cheeks. Most probably Radiesse or the other option would be Sculptra," Dr. Ben Behnam said.
Article continues below advertisement
"They're both designed to give people higher cheekbones. It's very popular in the industry and her cheeks are visibly higher and fuller."
On top of fillers and injections, Dr. Behnam tells RadarOnline.com it looks like the 45-year-old beauty had some Botox.
"Her eyebrows are also higher than before. She probably used Botox to raise the brow," he said.
"Something else that's different is she doesn't have the definition in her jaw area, which could just be because she's getting older."
According to Dr. Behnam, injections like Sculptra are typically done over a period of months and can last years, so it's hard to tell when the mother of two had the procedure done.
"She has what's called the Triangle of Beauty (one side of the cheek to the other cheek to the chin area, creates a triangle) and right now she's losing that triangle," Dr. Behnam said.
"It gives her that look of not being young anymore. Because that's how we perceive youth, is the triangle of beauty."
Article continues below advertisement