Ashton Kutcher Parties With Demi Look-Alike In Athens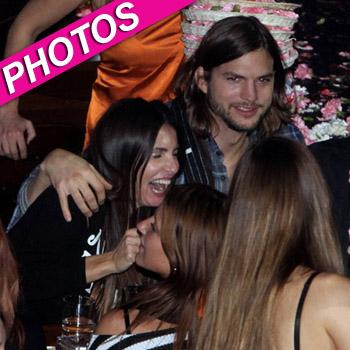 For the second night in a row, Ashton Kutcher got his party on, this time with a stunning Demi Moore look-alike.
Thursday night, he and actress-director Lorene Scafaria were in an Athens nightclub, along with one of Ashton's business partners.
While his rep insists Ashton and Lorene are "just friends," as our pictures show, on Friday night, he and the Demi look-alike were very, very friendly.
Article continues below advertisement
With his arm around the brunette beauty, the Two and a Half Men star tossed flowers on his gorgeous companion. She laughed just as hard, as she put a flower on Ashton's head!
Neither Kutcher or Moore has yet filed for divorce, but Ashton has reportedly moved into a lavish estate that he's renting for $50,000 a month, and he's obviously sending 2011 out with a bang.
RELATED STORIES:
Stick Thin And Somber Demi Moore Looks Gaunt Ahead Of Her 49th Birthday