Simon Cowell Tells Nicole Scherzinger To 'Get Lost' On The X Factor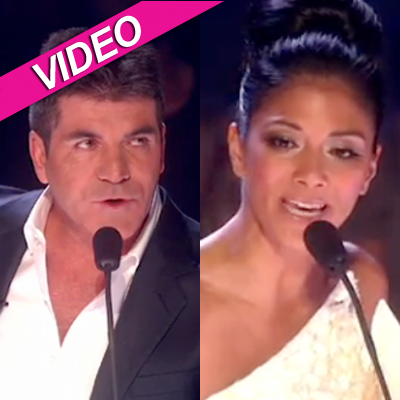 Wednesday's edition of The X Factor featured not just a series of excellent performances from the remaining five contestants, but a healthy dose of tension from the judges' panel, as Simon Cowell was still seething over last week's elimination of his protégé, Drew.
"If they want a war, they're gonna get a war," Simon said at the beginning of the show regarding his colleagues on the panel, Nicole Scherzinger, Paula Abdul and L.A. Reid.
Article continues below advertisement
In a disagreement over Josh Krajcik's performance of Rihanna's "We Found Love" -- Krajcik is Nicole's protégé on the show -- Cowell chided the former Pussycat doll that she was out of touch with American music because she spends too much time in the U.K., and called the dance routine behind Krajcik "ridiculous."
Cowell didn't hide his contempt at the sometimes flowery, sugary-sweet Scherzinger uses, making his old American Idol digs at Paula Abdul seem tame in comparison.
At one point, the snarky Simon said, "I am waiting for the Nicole doll to come out -- the voodoo doll! You know you'd buy it."
After Nicole commented that Krajcik had been "getting lost in the music," Simon asked her, "Why don't you just get lost?"
Watch the video on RadarOnline.com
Krajcik, Melanie Amaro, Chris Rene, Rachel Crow, and Marcus Canty remain in the running when The X Factor returns on Fox Thursday at 8/7c.