Astro, Drew Sent Home On The X Factor; Simon Seethes At Decision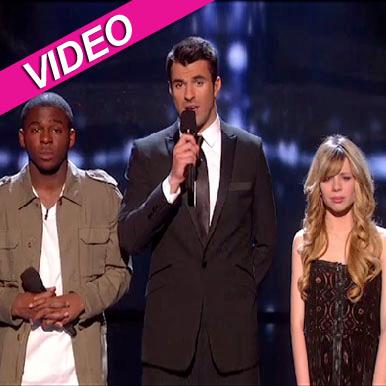 By Adam S. Levy - Radar Staff Writer
Two talented teens, Astro and Drew, were sent home on Thursday's edition of The X Factor, the latter elimination getting under the thick skin of one Simon Cowell.
Astro, who raised eyebrows with his superstar behavior a few weeks back, didn't seem too fazed by his elimination, as he said "it's for the better" he was bounced. He later told Fox All Access he felt restricted by the show's guidelines, and looks forward to further developing his hip-hop act.
Article continues below advertisement
Drew, competing with Marcus Canty for the fifth spot, sputtered with her sit-down rendition of Roxette's "Listen to Your Heart," getting a ticket off the show, which upset her musical mentor, Cowell. The Brit mogul blamed himself for his young protégé's defeat, questioning why he advised her to sing the 1989 ballad, and seated, at that.
"The reason Drew is in this position tonight is my fault -- I take total responsibility -- I genuinely believe you deserve a second chance," Simon told Drew just before she was voted off.
After her ouster, Cowell stormed off the stage, furious at the other judges (Nicole Scherzinger, Paula Abdul, L.A. Reid) for voting Drew off.
Watch the video on RadarOnline.com
While visibly upset, Drew kept it together as she exited the stage.
"I want to say thank you to my fans and I'm going to keep going and I've a lot to show you guys and it's a lot more upbeat," Drew said. "Jesus loves all of you guys and I didn't have the chance to say it before but that is why I am in this competition."