The Jackson Kids Make Surprise Appearance On The X Factor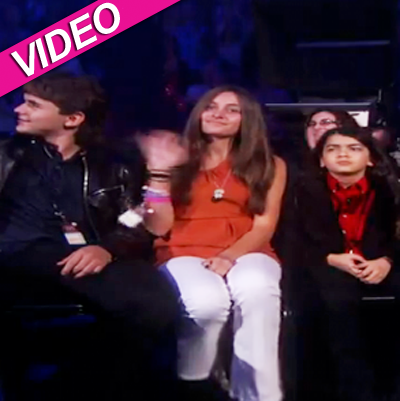 By Adam S. Levy - Radar Staff Writer
Michael Jackson's kids Prince Michael, Paris, and Blanket, along with other members of music's most famous family, appeared on Wednesday's edition of The X Factor, as the show paid homage to the late King of Pop with contestants performing songs out of his incomparable catalog.
The family made the surprise appearance just days after the late pop star's live-in doctor, Dr. Conrad Murray, received the maximum sentence of four years for his involuntary manslaughter conviction in the singer's shocking death.
Article continues below advertisement
Jermaine, Tito and Marlon Jackson introduced their mother Katherine and the children, who received a standing ovation from the studio audience as well as judges Simon Cowell, Paula Abdul, Nicole Scherzinger and L.A. Reid.
Prince Michael, 14, told host Steve Jones, "We're very excited to be here," while Paris called the night's performances of her father's songs fantastic.
"I love this show very much," the 13-year-old said.
Their grandmother Katherine said, "I don't miss an episode of this show. ... I am so very excited to be here."
Cowell, famously stingy with his praise, called the late Thriller singer "one of the greatest artists in the world" while assessing a contestant on the program.
Watch the video on RadarOnline.com
Earlier this week, we saw a different side of the family as Jackson family attorney Brian Panish read their victim impact statement during Murray's sentencing.
Article continues below advertisement
In it, Panish said Michael's three children have been left in anguish without their best friend, playmate and father, while his siblings would never be able to "hold, laugh and perform again with our brother Michael."
Michael died June 25, 2009 at 50 from acute intoxication of a powerful anesthetic complicated by other sedatives.
The X Factor returns Thursday on Fox at 8/7c.