ON YOUR RADAR: The 15 Worst Wardrobe Malfunctions Of 2011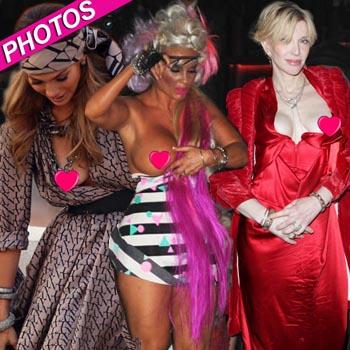 Article continues below advertisement
Nicki Minaj certainly knows how to wake up the country! The sassy singer showed off more than she bargained for during a performance on the popular show Good Morning America, when she couldn't keep the girls properly in place.
Nancy Grace also had a nip-slip on live television. The Headline News host had a Dancing with the Stars disaster, when she exposed her right breast during one of her numbers.
Courtney Love managed to sex up the after-party of an animated film with her body parts! The hot mess exposed herself in a bright red dress at a Hugo bash in NYC.
As for panty flashes, Kate Middleton's little sister, Her Royal Hotness Pippa Middleton, gave fans a peek of her undergarments at the Temperley fashion show during London Fashion Week, while Brit heiress Petra Ecclestone was exposed during a night out on the town.
What other stars experienced embarrassing wardrobe malfunctions in 2011? Find out by clicking here.