Nicki Minaj Has A MAJOR Nip Slip On Live TV!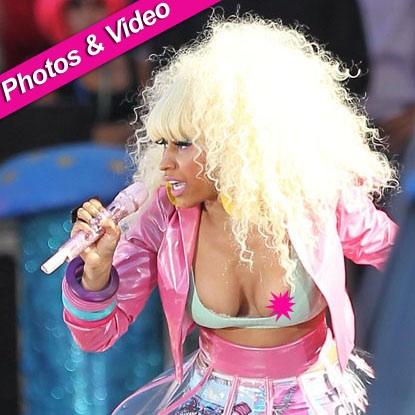 By Adam S. Levy - RadarOnline.com Staff Writer
Nicki Minaj can kiss that Super Bowl invitation goodbye.
The Super Bass singer, performing on Good Morning America's Summer Concert Series in New York's Central Park Friday, had a wardrobe malfunction of EPIC proportions, as both of her breasts careened out of her skimpy top -- twice -- during her song set on live TV.
Reactions on Twitter were fast and furious after the singer's nipples were broadcast over the airwaves. (The botch aired live on the East Coast, but was edited out for other time zones.)
Article continues below advertisement
User Ceejae Damasco tweeted: "Nicki minaj nipple came out huh...and I just asked my gmom to turn the channel," while user @Mom2HandR tweeted: "I think I just saw Nicki Minaj's nipple on GMA. Shakes head."
The singer, who's Britney Spears' opening act on her summer tour, tweeted after the show: "LIFE. U guys just gave me LIFE. I love u Team Minaj! Words could never do this love justice! Thank u @Gma !!!!! Honored."
ABC released a statement to RadarOnline.com concerning the incident: "Although we had a five-second delay in place for the Nicki Minaj concert on GMA , the live East Coast feed of the concert regrettably included certain fleeting images of the performer that were taken out of later feeds of the broadcast in other time zones. We are sorry that this occurred."
Watch the edited West Coast version of her performance below: