Exclusive
Illinois Family Murder-Suicide: Sara McMeen's Family 'Finding Comfort In The Lord'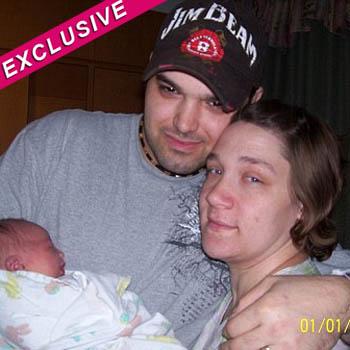 By Debbie Emery - Radar Reporter
Rocked by the horrific tragedy, a family member of murder-suicide instigator Sara McMeen's exclusively revealed to RadarOnline.com how they have found strength in loved ones, and in their faith, in the days since the shootings.
"We are doing OK, we are finding comfort in the Lord and in the huge outpouring of love and support from family and friends," the relative exclusively told RadarOnline.com.
Article continues below advertisement
As RadarOnline.com previously reported, the 30-year-old mother from the small farming town of Emington, Illinois, shot her three children, Skylar, 8, Ian, 7, and Maggie, 10 months old, and her boyfriend, Daniel Warren, 29, and then turned the gun on herself.
Police investigating the tragic murder-suicide that left an entire family dead on Friday have revealed that McMeen was the lone killer in the heartbreaking incident.
"Sara McMeen was the sole shooter of the other four victims before taking her own life," Livingston County Sheriff Martin Meredith said in a news conference on Monday.
Autopsy results revealed that McMeen died of a self-inflicted gunshot to the neck from a 40-caliber semi-automatic handgun that was found in her hand. The bullets from the weapon matched those found in Warren, who was shot in the back and the head, and the children, who were all shot in the head. Skylar reportedly had numerous wounds.
Article continues below advertisement
In an attempt to discover what triggered the deadly rampage, Sheriff Meredith said investigators are looking for anyone who saw McMeen or Warren in the 24 to 48 hours before the shooting.
Daniel's mother, Wendy Warren, was still in shock when she spoke to RadarOnline.com and revealed how her son's girlfriend had visited her just 24 hours before their deaths.
"Sara and my grandbaby came by to see me just the day before it happened," Wendy said. "She was happy and everything. She came to collect some clothes that I had bought for baby Maggie."
Wendy revealed that Sara suffered from Bipolar disorder but wasn't on any medication. She said that Sara and her 29-year-old son had been dating on and off for five years.
"They had their issues and they'd fight but they'd get back together," Wendy shared. "They had bought rings but they weren't married. They were working on their issues.
"I was going to spend Christmas with them. My son was going to pick me up on the 23rd and I was going over to their house for the holidays."
Article continues below advertisement
Darren was baby Maggie's dad, and McMeen's ex-boyfriend, Brad Lemke, was the father of the two older children.
As RadarOnline.com previously reported, McMeen shot her two sons and her boyfriend before taking little Maggie to the yard, wrapping her in a blanket and shooting her at point blank range in front of a horrified neighbor. She then turned the gun on herself and committed suicide.
RELATED STORIES: