Mother Shoots Her Baby At Point Blank Range, Kills Herself - Her Older Kids And Boyfriend Found Dead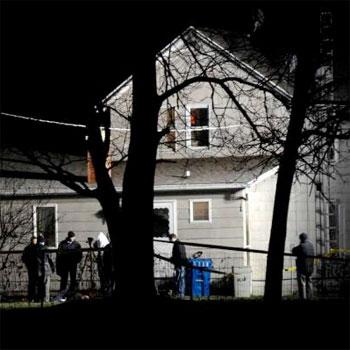 An Illinois mother shot and killed her 10-month-old baby daughter at point blank range while a horrified neighbor looked on. She then turned the gun on herself in a chilling murder-suicide that left five people dead.
Sara McMeen, 30, was found dead at her home in the small farming town of Emington on Friday afternoon.
Livingston County Coroner Michael Burke said that the woman's two older children; Skyler Lemke, 8, Ian Lemke, 7, and her live-in boyfriend, Daniel Warren, 29, had been murdered as well. Warren was the father of McMeen's infant daughter Maggie.
Article continues below advertisement
Sheriff Martin Meredith revealed that a semi-automatic pistol was recovered at the scene and called the situation "very gut-wrenching."
A neighbor, who did not want to be identified, told the Pontiac Daily Reader that she heard around five gunshots around 2.30pm and ran outside to see what was going on.
"I saw my neighbor in the back yard and she was wrapping her baby daughter in a blanket on the ground," the woman recalled. "At first I thought maybe she had been startled and dropped her daughter. I asked her if everything was OK. She said, 'No, everything is not OK.'
"She was standing over the baby and she bent at the waist and shot point-blank. I instinctively ran. I just couldn't believe it."
Neighbors revealed that the young family had only moved into the area a few months ago and that while the children were delightful, they heard arguments sometimes between the two adults.
The investigation is continuing.
RELATED STORIES: