Father Of Two Kids Murdered By His Ex Sara McMeen Is 'Numb, Anguished'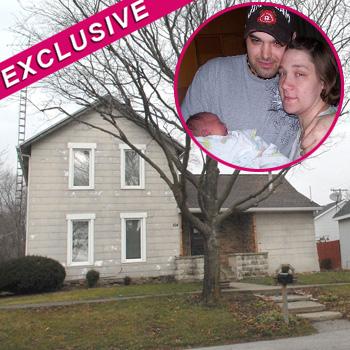 The father of two young children shot to death Friday by their mother, has spoken exclusively to RadarOnline.com about the horrendous crime.
Brad Lemke told us that he felt "numb" at the loss of his young children; Skylar, 8, and Ian, 7.
His ex, Sara McMeen, shot her 10-month-old baby Maggie at point blank range before turning the gun on herself in a chilling murder-suicide.
Responding cops and paramedics then found McMeen's boyfriend,the baby's father Daniel Warren, 29, and Sara's two kids by Lemke, dead at the home in the small farming town of Emington.
Article continues below advertisement
It's believed McMeen had murdered Skylar, Ian and her boyfriend before killing her infant and turning the gun on herself.
Brad Lemke revealed that he shared custody of the children with Sara since their split and was at a loss for words to describe how he was feeling but he is devastated.
"I was very close to my children. I'm not good. I just saw them last weekend," he tells us.
The distraught father lives just over 10 miles from where his children were killed. He says he has spoken to Sara's family but so far has been given little information from law enforcement.
Sheriff Martin Meredith revealed that a semi-automatic pistol was recovered at the scene of the heinous killings and called the situation "very gut-wrenching."
Lemke's children were seen getting off of their school bus just a short while before they were killed.,"They were happy because it was the last day of school before Christmas break," McMeen neighbor Ronald Groetsema remembered.
Another eyewitness said they saw the kids playing in the backyard at the home before they were brutally slain.
Article continues below advertisement
As RadarOnline.com previously reported, a neighbor, who did not want to be identified, told the Pontiac Daily Reader she heard around five gunshots around 2.30pm and ran outside to see what was going on.
"I saw my neighbor in the back yard and she was wrapping her baby daughter in a blanket on the ground," the woman said about seeing Sara with her baby moments before they both died. "At first I thought maybe she had been startled and dropped her daughter. I asked her if everything was OK. She said, 'No, everything is not OK.'
"She was standing over the baby and she bent at the waist and shot point-blank. I instinctively ran. I just couldn't believe it."
Sara's mother Cynthia has now released a statement:
"The family grieves over the loss of their loved ones. They realize this (tragic) incident affects not only their family, but other families as well. The family is drawing together during this time, relying on God, and grieving. They would ask for your prayers for all the families involved and would like their privacy to be honored."