Exclusive
Woman Whose Son And Grandchild Were Murdered By Sara McMeen Is 'Shocked, Devastated'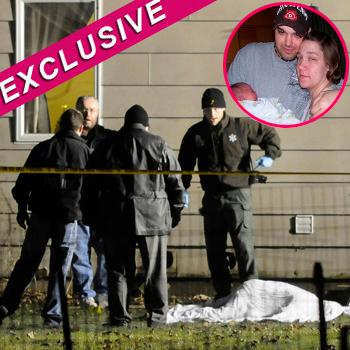 Daniel Warren's mother has spoken exclusively to RadarOnline.com about the heartbreak of losing her only child and grandchild at the crazed hands of his girlfriend, Sara McMeen.
Wendy Warren was grief-stricken when an official from Livingston County Coroner's office in Illinois notified her on Friday that her son had been shot dead and that Maggie, his 10-month-old baby daughter with Sara, had also been brutally killed by McMeen.
Article continues below advertisement
Sara's two older children; Skylar Lemke, 8, and Ian Lemke, 7, from her relationship with ex-boyfriend Brad Lemke were also found dead at the home in the small farming town of Emington.
"Sara and my grandbaby came by to see me just the day before it happened," Wendy tells RadarOnline.com exclusively. "She was happy and everything. She came to collect some clothes that I had bought for baby Maggie."
Wendy revealed that Sara suffered from Bipolar disorder but wasn't on any medication. She said that Sara and her 29-year-old son had been dating on and off for five years.
"They had their issues and they'd fight but they'd get back together," Wendy shared. "They had bought rings but they weren't married. They were working on their issues.
"I was going to spend Christmas with them. My son was going to pick me up on the 23rd and I was going over to their house for the holidays."
As RadarOnline.com previously reported, McMeen shot her two sons and her boyfriend before taking little Maggie to the yard, wrapping her in a blanket and shooting her at point blank range in front of a horrified neighbor. She then turned the gun on herself and committed suicide.
Article continues below advertisement
Wendy Warren tells us her son, who worked at a nuclear plant as a security guard, was a good man and looked after Sara's two older children like they were his own.
But she said that he had several guns in the home including one that he bought recently that he was "very proud of."
"There were three children in the house so he never kept the bullets the same place as the weapons and he always had them locked up," Wendy said. "He had always wanted to be a cop but was happy working in security."
Wendy said that she had spoken to Sara's family who were distraught and that they were all consoling each other.
"None of it makes any sense at all to us," she shared. "Sara came from a big family and was one of nine children. Nobody understands what led her to do this."
RELATED STORIES: