President Barack Obama, Justin Bieber Sing Together At Christmas Concert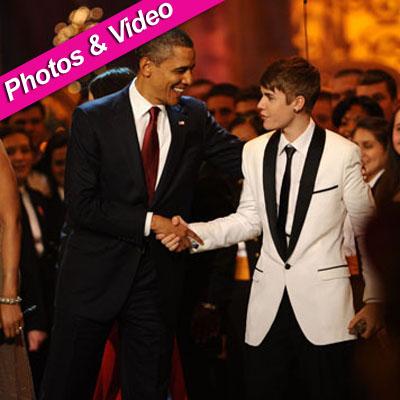 President Barack Obama and teen sensation Justin Bieber sang "Hark! The Herald Angels Sing" at Washington's National Building Museum on Sunday for the annual Christmas in Washington event.
"This is the season to celebrate miracles," said the president, who was joined by First Lady Michelle Obama, and their daughters Malia and Sasha. "Every year we celebrate his birth because the story of Jesus Christ changed the world. For me and for millions of Americans, the story has filled our hearts and inspired our lives.
Article continues below advertisement
"So tonight let us all rededicate ourselves to each other, and in that spirit, from my family to yours: Happy holidays, merry Christmas, God bless you all."
Watch the video on RadarOnline.com
Bieber tweeted after the event: "Great night! President Obama is one cool Prez. He told me he was "chillin." #PresidentialSWAG."
Cee Lo Green and Jennifer Hudson also appeared at the event, which was broadcast on TBS and hosted by Conan O'Brien, who joked the holidays are spent honoring a miracle child worshiped by millions worldwide: Bieber!