Zac Efron's Motorcycle Instructor: Tom Cruise!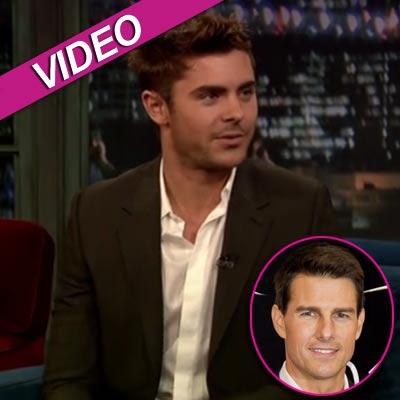 It's two of Hollywood's hottest hunks - and a bike.
High School Musical star Zac Efron told Jimmy Fallon Wednesday he was talking about motorcycles with perennial A-lister Tom Cruise at a party, when Cruise asked him, "Hey man, do you ride?"
Cruise then asked Efron, "Why don't you come over tomorrow and I'll teach you how to ride?"
Of course, Efron accepted the once-in-a-lifetime invitation.
Article continues below advertisement
Cruise "sat there for two hours and taught me how to ride a motorcycle," Efron said, noting he was a mediocre rider, but the experience was one he'll always cherish.
Also on the program, Fallon asked Efron if, as a High School Musical alum, he'd ever bring his considerable showman skills to Fox's hit, Glee.
Watch the video on RadarOnline.com
"I would love to go on the show," he said.
Zac appears in the film New Year's Eve (co-starring, among many others, Glee's Lea Michele) which opens Friday.