Paris Jackson Fills In For Missing Lindsay On Ellen; Says Wearing Masks Was 'Stupid,' But Well-Meaning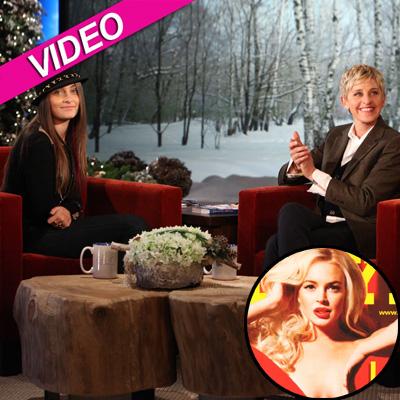 When Lindsay Lohan missed her flight to Los Angeles from Hawaii on Tuesday - and a scheduled taping of The Ellen DeGeneres show - the program pulled a coup, booking Paris Jackson, the daughter of late pop legend Michael Jackson, in her first ever solo interview.
After some discussion about her foray into acting, Ellen and Paris, 13, discussed her father's famous habit of disguising his children up in masks during public outings.
Article continues below advertisement
Paris told Ellen that she's enjoying school and feels like she's having a normal childhood. Despite her famous family, Paris said she wasn't recognized by her classmates, which gives her "a chance to be normal."
"They didn't know who you were because you used to wear masks all the time," Ellen remarked. "When you would wear the masks do you remember thinking, because obviously your dad did that to protect you so nobody would know who you are and you could go out and have a regular life.
"Do you remember wearing a mask and going this is kind of weird?" Ellen asked Paris, who said, "Yeah, I'm like, 'This is stupid, why am I wearing a mask?' But, I, kind of realized the older I got, like he only tried to protect us and he'd explain that to us too."
Watch the video on RadarOnline.com
In another candid moment, Paris shared with Ellen the most memorable thing her late father told her.
"He said, 'If I die tomorrow, always remember what I told you," Paris recalled. "I took his advice and I remembered everything he told me.'"
Article continues below advertisement
As for LiLo, the Ellen appearance was the only promotion she was slated to do for her new Playboy issue, which she reportedly pocketed $1 million for.
Her rep said she "was delayed in Hawaii due to a travel-related issue" and "offered to tape Ellen tomorrow, but the show was unable to shift things around, and tomorrow is their last day of taping for the season."
If the fiasco sounds familiar, it should: Lohan famously missed a mandatory court appearance last year after she claimed to have lost her passport while attending the Cannes Film Festival in France.