Proud Father Michael Lohan Says Lindsay's Playboy Shoot Is a 'Good Move'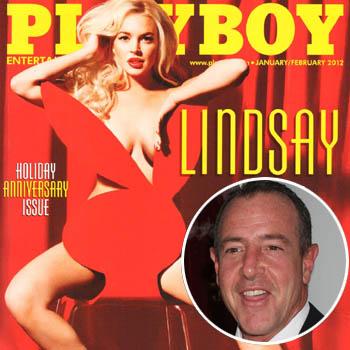 Many fathers might be horrified to see their daughter posing naked in a men's magazine.
But Michael Lohan isn't most dads and he says he's happy 25-year-old daughter Lindsay stripped off for the January issue of Playboy magazine because he "heard it's classy."
In an episode of Dr. Drew Pinsky's Lifechangers TV show, airing December 28, the troubled elder Lohan said he thinks Lindsay made the right choice posing nude.
Article continues below advertisement
"If she's happy with it, I'm happy with it," he said.
"I haven't seen it and I never look at it, any of it," he claimed before a large naked image of his daughter was flashed up on the screen in front of him. "There she is. Do I have to close my eyes?"
"It's a move in a direction where she's working… so as far as I'm concerned it's a good move."
PHOTO: LiLo Attends Jay-Z Concert Night Before Court
Lindsay's Marilyn Monroe style shoot brought in some good sales figures for Hugh Hefner's publication.
Michael added that his often uneasy relationship with Lindsay was "getting a lot better. She's on a great path," he insisted. "I've been in touch with her."
Michael's own path however isn't so great as he's currently undertaking a domestic violence program as part of his probation terms for assaulting ex-girlfriend Kate Major during a fight in Florida last October.
RELATED STORIES:
Kiss & Tell Or Publicity Stunt? Pop Star Claims Passionate Night With Lindsay Lohan