Lindsay Lohan's Progress Report: 'You're Doing Well & I'd Like To See It Continue'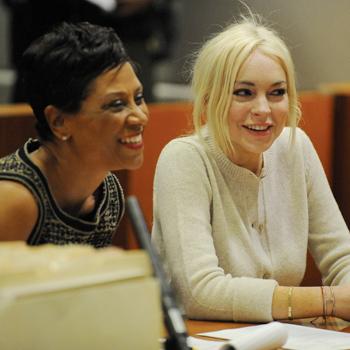 By Amber Goodhand - RadarOnline.com Reporter
Lindsay Lohan appeared in a Los Angeles courtroom on Wednesday morning for a progress report and appeared less than put together after attending the Jay-Z and Kanye West concert the night before.
Lindsay giggled as Judge Stephanie Sautner gave her accolades for her compliance with the terms of her probation stemming from her shoplifting conviction.
Read Lindsay Lohan's Probation Report
Article continues below advertisement
"You're doing well and I'd like to see it continue," Sautner said.
As RadarOnline.com previously reported, Lindsay missed her flight from Hawaii back to Los Angeles on Tuesday, causing her to miss a taping with The Ellen DeGeneres Show, and leaving some to wonder if she was even allowed to leave the state in the first place.
"There seems to have been some confusion on whether or not you were allowed to take vacation outside the state," Sautner said.
"Ms. Mansfield apparently thought your sister's birthday was a holiday."
Watch the video on RadarOnline.com
However, Sautner said she had no problem with Lindsay leaving the state since she had already completed her court-ordered 12 days of community service in the county morgue.
"In any month in which you finish your 12 days early, you may then travel," Sautner said.
Lindsay is to appear in front of Judge Sautner again on January 17 for another progress report in which she must have completed another 12 days in the morgue, four more therapy sessions and keep in regular contact with her probation officer.