Metallic Man Attempts To Break 'Most Spoons On A Human Body' World Record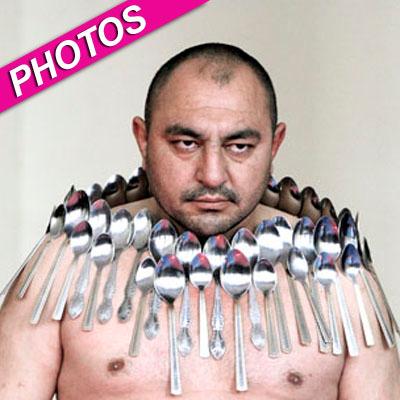 By Debbie Emery - Radar Reporter
Guess there really is a world record for everything!
A metallic man whose body provides a bizarre attraction to heavy metal has gone to great lengths to get his spot stuck firmly in the record books, and RadarOnline.com has photos of his unusual talent.
Etibar Elchiyev posed with more than 50 spoons magnetized to his skin during his attempt to break the Guinness World Record for 'Most Spoons On A Human Body.'
Article continues below advertisement
During his cutlery feat in Tbilis, which is the capital city of Georgia in Eastern Europe, Elchiyev appeared serious and somber as the spoons hung randomly from his chest and shoulders in front of a room of onlookers.
It seems this isn't the only bizarre metallic, or spoon world record.
Six-year-old Croatian Ivan Stoiljkovic is also able to attract metal to his chest - including silverware, coins and even a frying pan, and can carry up to 55 pounds of metal on his torso - setting the world record for the 'Most Powerful Magnet Boy.'
And the world record for 'The Most Spoons Balanced On The Face' was achieved by Joe Allison, a young British boy, in Devon, United Kingdom, with a total of 16 spoons, in 2008.
If you are planning on trying to break young Joe's record, it's good to know that he used stainless steel teaspoons -- he balanced 5 spoons on the forehead, 4 on the cheeks, 1 on the nose, 2 on his top lip, 1 on each ear and 2 on the chin.