Two-Faced Cat Paws His Way Into The Guinness Book Of Records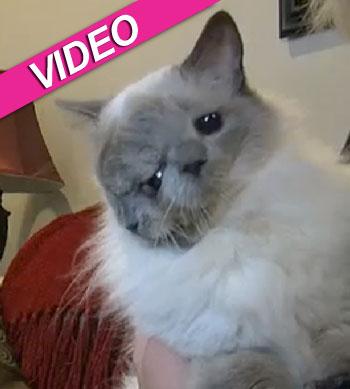 'Frank and Louie' is far from your regular household cat, but that hasn't stopped the two-faced pussy from living to the ripe old age of 12 and pawing his way into the record books.
Born with a rare condition called Janus that causes him to have two faces but one brain and stomach, the Massachusetts cat has out-lived all expectations to win a spot in the 2012 edition of the Guinness World Records book for the longest living cat with the disease.
Article continues below advertisement
Most Janus sufferers don't survive past kitten-hood, but Frank and Louie celebrated his 12th birthday earlier this month, reported Boston.com, and many credit the great care of his owner.
"Frank does the eating," explained the cat's owner, Marty, who wishes to keep her last name private. "He only has to eat for one cat body. He's just one cat body with an extra face."
The dedicated owner has nursed her funny feline since he was a day old, when she rescued him from being put down while working at the Cummings School of Veterinary Medicine at Tufts, Massachusetts.
"For the first month or so I fed him every two hours. He was the size of a hamster," said Marty.
Luckily, despite living with a single-faced kitty and a dog, Frank and Louie doesn't know he is any different from the rest of the feline population.
"He thinks he's a normal cat," said Marty, who takes her record-breaking pet for walks on a leash and rides in her car. Now that's not normal!
Watch video of the record-breaking feline below: