Dog's Ears Measure More Than 2 Feet!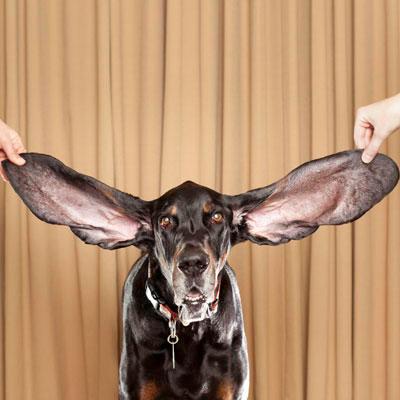 The phrase "In one ear and out the other" takes on special meaning when you're talking about Harbor the dog.
The 8-year-old black-and-tan coonhound from Boulder, Colorado is slated to received the 2012 Guinness World Records title of "longest ears on a living dog" on Tuesday.
Harbor's massive ears have to be seen to be believed: the right one measures 13.5 inches long, while the left one comes in at 12.25 inches long.
Article continues below advertisement
Pooch Power! Celebrities Show Off Their Adorable Dogs
Jennifer Wert, the dog's owner, said that when Harbor was a puppy, he'd often trip over his ears. She added that passersby often stop her to ask questions about the pooch, snap pictures and playfully tug at its' long ears.
Harbor inherits the title from the late Illinois bloodhound Tigger, whose ears measured 13.5 inches and 13.75 inches long.
RELATED STORIES: