2011 VMA: Justin Bieber Brings Pet Snake!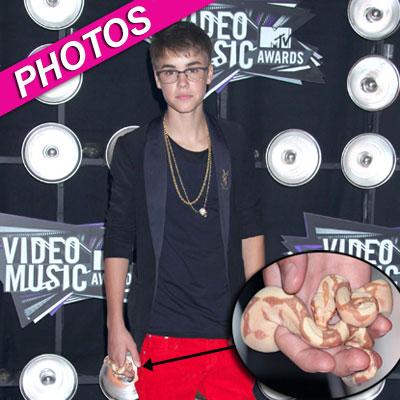 Justin Bieber had two dates for Sunday's MTV Video Music Awards -- girlfriend Selena Gomez and his pet snake!
Gomez -- who acted as MTV's special VMA Pre-show co-host -- had some fun as she questioned the Baby singer on the black carpet.
"I'm here with the one-and-only Justin Bieber," Gomez said when she introduced her beau. "Who are you wearing? Can you please talk about that?"
"I have my snake," Bieber said, showing off his slithery little friend in his hand. "I have red pants and cheetah shoes."
Article continues below advertisement
"What's your snake's name?" Gomez asked.
"My snake's name is Johnson," Bieber quipped.
"You're up for Best Male Video," Gomez continued. "I wanna know, you're up against Eminem and Bruno Mars. Do you feel a little nervous at all?"
"You know, I'm just excited to be in the category with such amazing people," Bieber said. "I'm just happy to be here."
"Rumored to be performing is Jay-Z and Kanye West, and I know you like them both," Gomez continued. "Are you excited to see them perform?"
"Very excited," Bieber said. "I heard that it was kind of a last minute thing, but I'm really excited."
2011 VMA: Amy Winehouse Tribute
Gomez then asked if he was more excited for Jay-Z and Kanye West, or another of his favorites, Beyoncé.
"I'm excited to see Beyoncé too," Bieber said with a smile.
"Good. Thank you so much. Thank you for hanging out, babe." she said to Bieber, as he leaned in to kiss Gomez's cheek.