Muy Caliente! Bikini Babe LeAnn Rimes & Eddie Cibrian Sizzle South Of The Border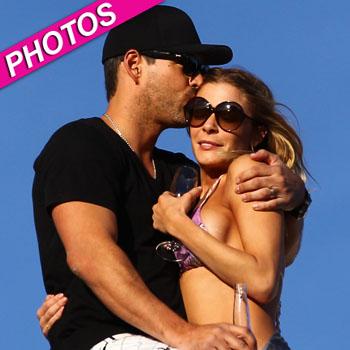 By Alexis Tereszcuk - Radar Senior Reporter
Muy Caliente!
LeAnn Rimes stripped down to a super small purple bikini on vacation with her hubby Eddie Cibrian and her sexy suit sizzled on the sand.
The happy couple headed out of L.A. over the weekend and hit up the sunny shores of Cabo San Lucas where they were snapped enjoying the view of the ocean from their hotel balcony.
The slender star rocked her scandalously small bikini top and a sexy sarong and her husband just couldn't keep his hands off her!
Article continues below advertisement
Enjoying her vacation hot spot LeAnn Tweeted about the fun they're having: "The wale (sic) watching from our balcony is insane. They are so close....what beautiful creatures."
LeAnn made RadarOnline.com's list of the 10 Most Scandalous Bikinis of 2011 for showing off her rocking bod in barely-there bathing suits.
What do you think about this shiny suit she's wearing? Tell us in comments.
RELATED STORIES: