Parents Of Model Injured By Propeller: 'She Will Fight Through This'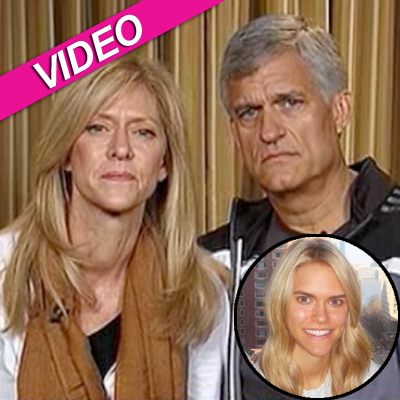 Jeff and Cheryl Scruggs, the parents of injured model Lauren Scruggs, tell The Today Show they have faith their daughter's strong spirit will enable a recovery.
As we previously reported, Scruggs is the 23-year-old beauty queen who was severely injured after walking into a live plane propeller Saturday, about 30 miles away from Dallas. She suffered injuries to her entire left side, including a severed left hand (which was later amputated) and eye, a fractured skull, a broken left collarbone and brain injuries.
Article continues below advertisement
Cheryl told Ann Curry her daughter is already showing small signs of her limitless spirit in communicating with them during a hospital visit.
"Just seeing her just trying to open her right eye a tiny bit, and then move her lips and she said 'Hi,' that just brought us to our knees,'' Cheryl said of her daughter, sobbing.
The parents said they are grateful Lauren, who's also a blogger, was not killed by the propeller in the nighttime accident. They added the family is willed with a strong faith in Jesus Christ.
Jeff Scruggs called the past two days "horrendous," saying there are some "bright signs ahead" however in his daughter's recovery. He noted that doctors still might be able to save Lauren's eye, which they previously thought would have to be removed.
"It's going to be several weeks before they know for sure what is going to happen with the eye,'' Jeff said. "They operated on her two days ago just on the eye for over six hours, which we saw as a good thing, and we're just praying that she comes through with that."
Article continues below advertisement
Watch the video on RadarOnline.com
"She is just a fighter, and she will fight through this,'' Cheryl said of her daughter, who's resting in intensive care at Parkland Memorial Hospital in Dallas. "She will make it through, and she will use it for good.
"She's going to have a tough time when she finds out … everything that's happened, and losing her left hand is really a tough thing, but she'll fight.''