Kris Humphries Gets A Job! The Former Mr. Kim Kardashian To Sign With The Nets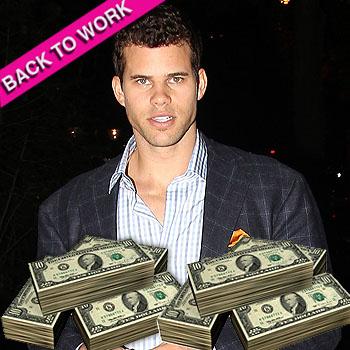 By Debbie Emery - Radar Reporter
Now that he doesn't have his wife to support him, Kris Humphries needs to make money of his own and will be relieved to have finally secured a deal with his former team.
The 6'9" NBA player and former Mr. Kim Kardashian is on the verge of signing a one-year deal with the New Jersey Nets for nearly $8 million, reports ESPN.com.
Once the ink is dry on the contract and 26-year-old Kris has passed his physical exam, he could be back in uniform and on the court as soon as Wednesday night for their game against the New York Knicks.
Article continues below advertisement
Kris was a breakout star in the NBA during the 2009-2010 season when he averaged a double-double for the Nets, and ranked fifth in the NBA in rebounding, pulling down 10.4 boards per game, but he has not played professionally since last spring due to the bitter NBA lockout.
After being guilted into the reality TV limelight during his relationship with the Keeping Up With The Kardashians star, he escaped to the peace and quiet of Minnesota following their split, where the free agent had been training while waiting for the league dispute to be settled.
The Nets have lost one high-profile fan since they last played, as after Kim and Kris' marriage fell apart after just 72 days, it's safe to assume she won't be cheering him on court-side this year.
Kim is more likely to be rooting for the Los Angeles Lakers now that her best friend Carla Dibello has been linked in reports to their soon-to-be divorced star player, Kobe Bryant.
However, Kris does already have a family reunion with his in-laws on the calendar on February 28 when he will face off against Khloe's husband, Lamar Odom, who signed with the Dallas Mavericks last week.