No Counseling For Kim, Her 'Intuition' Told Her To File For Divorce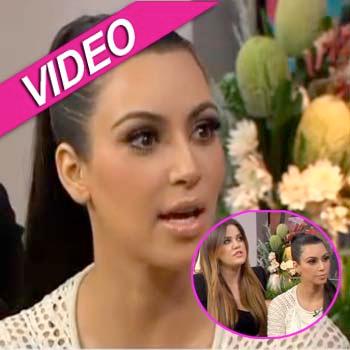 After jetting Down Under to promote her handbag collection, Kim Kardashian sat down for her first live TV interview since her shocking divorce announcement, and RadarOnline.com has footage from the Australian morning show.
Sitting with sister Khloe by her side, pristine and composed Kim was a far cry from a distraught woman going through a traumatic break-up as she talked to Sunrise news show hosts in Sydney.
Article continues below advertisement
When asked if she really worked at her 72-day marriage and got counseling, the usually hard-working star replied:
"I think when you know so deep in your heart that you just have to listen to your intuition and follow your heart, there's no right or wrong thing to do," said Kardashian. "I didn't want to disappoint anyone but I had to follow my heart."
As RadarOnline.com previously reported, Kim filed for divorce from Kris Humphries after just 72 days on Monday, and has since claimed that she would never marry for money.
Rather than crying over Kris, the 31-year-old reality star said the thing that upsets her most is the talk of how much money she made from her August wedding.
"From the start there have been so many rumors of money and dollar signs thrown up into the air," complained Kim, who never mentioned Kris Humphries by name during the entire interview.
"'This much and this much and this much,' and so much of it not being true, so it's kind of what you get living your life so publicly on a reality show."
Article continues below advertisement
The Keeping Up With The Kardashians star described living her life in the spotlight as "a double edged sword. It's hard to go through right now and I'm glad I'm out here to get my mind off things," she said.
As usual, the business queen distracted herself from real life by promoting her latest product, "I just wanted to stick with my commitment to come out here to Australia," she said.
"I love our fan base out here and of course I do want some time to myself, it's a really tough thing to go through but I didn't want to bail on everyone and kind of skip out on this commitment here."