Kardashian And Teen Mom Twitter War Part 2! Kourtney Vs. Farrah Abraham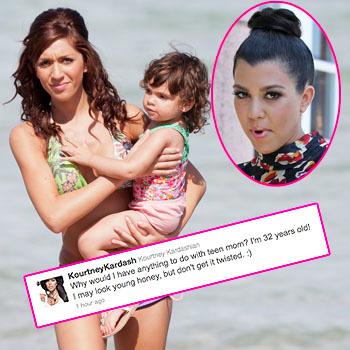 The claws are out!
After Teen Mom star Farrah Abraham took to her twitter on Friday to express her shock that Kourtney Kardashian is expecting her second child with Scott Disick, the Kardashian clan is blasting back at the single mother – and RadarOnline.com has the details of the reality star showdown!
"Im Shocked Kourtney Kardashian is pregnant again," Abraham tweeted. "Did she not learn anything from TEEN MOM? Maybe its a fake pregnancy like kims wedding SAD."
Article continues below advertisement
Several hours later, Kourtney Kardashian, snipped back via Twitter. "Why would I have anything to do with teen mom? I'm 32 years old! I may look young honey, but don't get it twisted. :)"
And baby-daddy Disick also had some not-so-kind words to say to Abraham as well.
"Were not teenagers ya f***ing moron," he responded, to which Khloe Kardashian chimed in, "I don't even know who this person is? How do u?"
"I just though she was some sh*t stain on twitter, no?" Scott tweeted back to Khloe.
This isn't the first time a Teen Mom star has taken a stab at the Kardashians.
After Kim Kardashian sounded off against the Teen Mom franchise, blaming it for an increase in teenage pregnancies, Amber Portwood bounced back and blasted the reality star.
"Last time I checked, Kim Kardashian had a sex tape floating around on the internet and I'm pretty sure she made a lot of money off of it," Portwood said to E!.