Exclusive
Congressman Slams Kardashians: 'They Don't Give A Damn About Americans'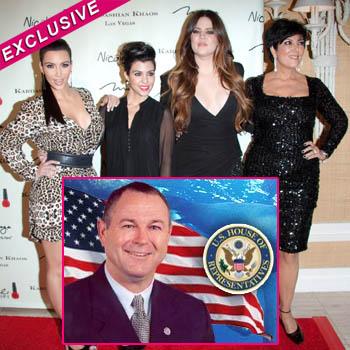 By Alexis Tereszcuk - Radar Senior Reporter
The Kardashian family's multi-million dollar empire is under investigation by human rights organizations for producing their high end goods in Chinese factories with sweatshop conditions, but a United States Congressman has slammed them for another reason, claiming: "They don't give a damn about the American people."
The allegations about Kardashian products in this post have nothing to do with their products sold at Sears.
Article continues below advertisement
"It is very sad that anybody who is already making millions of dollars thinks they have to go to China to have work done in substandard labor conditions where people are paid a pittance and have no right to organize a union," California Rep. Dana Rohrabacher exclusively told RadarOnline.com.
"By going to China in order to make a $65 million profit instead of a $10 million profit you are effectively thumbing your nose at the American people," Rohrabacher said. "They don't give a damn about the American people."
As Star magazine revealed in a bombshell worldwide exclusive report, Charles Kernaghan from the Institute for Global Labor and Human Rights has said they are starting an investigation into the factories the reality TV family use to produce their products.
While the Kardashians are involved with many fine consumer products in the fashion, beauty, fragrance, health and lifestyle industries that are not part of this investigation, there are several brands that are coming under fire. Items in the family's high-end K-Dash by Kardashian label and the Kris Jenner Kollection — sold on the home-shopping television network QVC — and ShoeDazzle, a company that Kim cofounded and endorses, are all manufactured in areas of China where government regulations are often ignored and workers are subject to inhumane conditions.
Article continues below advertisement
Despite the Kardashian family denial that their company makes their products in a sweatshop, Rohrabacher slammed the family for conducting business outside of the United States.
"They are denying their fellow Americans honest jobs here," he told RadarOnline.com. "They only care about making extra millions on top of the money they're already raking in."
Kernaghan exclusively told Star, "I would be clearly stunned if these factories were even minimally decent because that isn't how China operates. That is absurd and ridiculous -- the workers have absolutely zero rights. It is a miserable life without a doubt. I believe the workers are mistreated 100 percent but I just haven't proved it yet."
Congressman Chris Smith (Robbinsville, NJ), Chairman of the U.S. Congressional-Executive Commission on China also weighed in on the controversy for RadarOnline.com.
"Chinese workers face grossly substandard working conditions and encounter frequent workplace abuse. In spite of the Chinese government's illegal labor practices continuing to undermine minimum wage guarantees while workers face dangerous working conditions," he said. "As a matter of fact, I have officially asked the U.S. Trade Representative (USTR) to investigate the pervasive exploitation of Chinese workers—no collective bargaining rights, no occupational safety protections and pay of 10 to 50 cents an hour— as an ongoing practice in violation of U.S. import laws.
Article continues below advertisement