Exclusive
Manufacturer The Kardashians Used Paid Workers 8 Cents Per Shirt: Report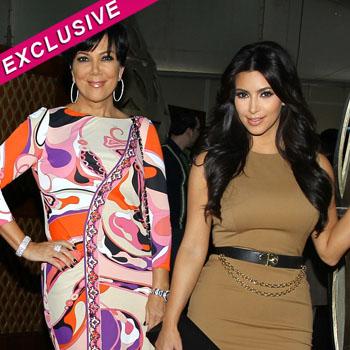 A clothing manufacturer once used by the Kardashians to produce one of their branded lines paid its Chinese workers a paltry 8 cents per garment, an investigation by a leading human rights advocacy group uncovered.
The allegations about Kardashian products in this post have nothing to do with their products sold at Sears.
China Labor Watch, a nonprofit organization fighting sweatshops in the Communist regime, released the startling findings of their probe, titled 'Investigation of China's Clothing and Apparel Industry: Excessive Overtime, Student Workers and Exploitative Wage Systems' -- which you can read here.
Article continues below advertisement
The investigation into Bebe, who the Kardashians used to manufacture a branded clothing line, handbags and jewelry with in 2010 -- ran from July to August, this year.
Despite the Kardashians' denials that factories they've used are "strictly policed" and there are no human rights violations, the organization found workers -- predominately students -- were paid based on a piece-rate wage system.
At the company's Zhejiang Cathaya Clothing Factory, investigators posing undercover as factory workers uncovered that staff were required to iron a total of 1,600 t-shirts each day, with each laborer having to iron between 270 and 400 pieces of clothes.
That amounts to about $21 per day.
And according to China Labor Watch, staff were routinely working 12 hours a day and six days a week.
That equates to $1.75 per hour.
According to the findings, violations at the factory include:
* The piece-rate wage system employed at the factory all but requires workers to work 'overtime' to support themselves.
* This system does not even provide extra pay per unit made during overtime hours, which would seem to be in clear violation of labor laws.
Article continues below advertisement
* As a result of the piece-rate wage system, workers often work 12 hours a day, 6 days a week. Some workers even work 15 to 16 hours a day. Investigators saw these workers start work at 8 a.m. and finish it at 11:30 p.m.
* Salaries are not calculated with a base wage.
As Star magazine reported in a world exclusive, the Kardashians - who made $65 million last year - use conditions like "slave labor" and turn a blind eye to shocking working conditions.