Exclusive
China Labor Watch On Sweatshop Scandal: 'The Kardashians Are Lying'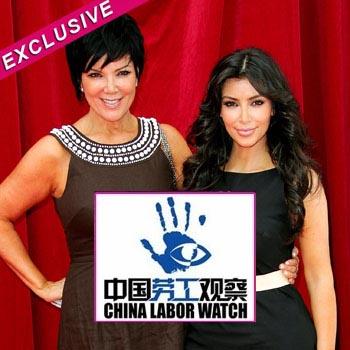 The boss of China's foremost human rights group that investigates sweatshops in China has lashed out at the Kardashians, after reading the reality television family's denial that the factories they used are "strictly policed" and there are no human rights violations.
The allegations about Kardashian products in this post have nothing to do with their products sold at Sears.
"If the Kardashians say they don't know how bad the situation is, they're lying," Li Qiang, the executive director of China Labor Watch, tells RadarOnline.com.
Article continues below advertisement
"If they Kardashians don't stop endorsing these products or do anything to improve the conditions in the factories, they are sending a message to the public saying, 'We will do anything to make money.'
"China is the largest manufacturer -- you can see 'made in China' tags everywhere, which means, there are thousands of factories in China that produce garments, shoes, toys, electric productions and etc. for the entire world," Li Qiang continues. "When it comes to the inspection, it cannot be thorough because there are so many factories to be taken care of.
"Another issue in inspection is corruption. By offering bribes, factories can certainly hide some facts from the inspectors. We are not saying that the Kardashians' manufacturing factories have these problems, but we know that corruption is still common based on our investigations in factories in China.
"So although some factories passed the inspection, it doesn't necessarily mean that they had met the standards imposed in China."
Article continues below advertisement
Li Qiang goes on to detail conditions within the factories.
"We found that workers have to work 11 hours a day or even more when it's the busy season. They have to because the basic monthly salary (around $220) can hardly support a basic standard of living and they have to work overtime to earn extra."
"The food they eat in the factory lacks basic nutritional quality and is often unsanitary," he says. "The management style is harsh and workers are sometimes drilled using dehumanizing, quasi-military techniques. Workers have to endure verbal abuse from their supervisors if they make any mistakes.