Jennifer Hudson: 'If It Wasn't For My Fiancé, I Could Be Dead'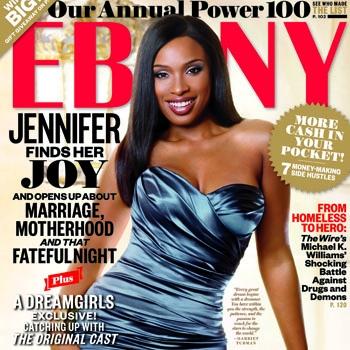 Jennifer Hudson may not be alive today if it wasn't for her fiancé, David Otunga's wrestling career.
The Dreamgirls star reveals in the December/January issue of , that Otunga's spontaneous decision to join the World Wrestling Foundation, may have saved her from being present when the tragic murder of her mother, brother and nephew took place in 2008.
"That's one of the things that saved my life, because I could have been home with my mom then," she explains about going to Florida to support her fiancé's new career. "He wanted me to come out to Florida instead of going to Chicago. I flew out to see him; that's why I'm still here."
Article continues below advertisement
"I've never said that before, and I can't believe I just said that now. But I didn't know. He was just like, 'I'm going to this wrestling thing, and it's in Tampa. I'm going out there now, so you can come out there and see me versus going home.'"
She also opens up about why the couple, who got engaged in August 2008 and postponed their original wedding date after the family tragedy, has yet to walk down the aisle and say their I do's.
"After that happened, I was like, 'I don't know what I want,'" she admits. "A lot of things have happened in my life. There are a lot of things that I need to get adjusted to before I do anything else. That's how I feel about it."
For more on Jennifer Hudson's revealing interview with Ebony, pick up the December 2011/January 2012 issue.
You can watch video from Jennifer's stunning photo shoot here on RadarOnline.com.