Ellen DeGeneres Buys Brad Pitt's Malibu Estate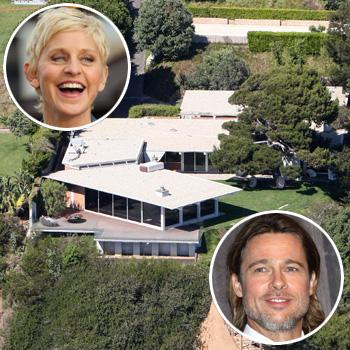 Ellen DeGeneres has made the rumors come true. The talk show queen has bought Brad Pitt's Malibu estate.
Ellen was spotted inspecting the house in early November, but declined comment on a possible transaction.
Now it's been confirmed that she paid $12 million for the property, which Pitt had listed at $13.5 million.
Pitt bought the place -- on Encinal Bluffs on the very outer edge of Malibu -- right after he split from Jennifer Aniston, and it's where he and Angelina initially settled in as a couple.
Article continues below advertisement
It has four bedrooms, four baths, a newly renovated kitchen, eco-friendly bamboo flooring and walls of glass. There's a pool and tennis court, and spectacular friends up and down the coastline.
Brad, Angelina and their brood still have plenty of places to hang out. They have a three-house compound in Los Angeles, a funky beach compound on the sand north of Santa Barbara, a massive chateau in France, a luxury maison in New Orleans, and a rural house on stilts in Cambodia.